About Us
Takshi Auto was established in 2003 by a passionate visionary Mr. Amol Nitin Patel with a mission to becoming the preferred supplier of Auto Components to its esteemed customers. With Innovation and continuous improvement at its core, Takshi Auto has outperformed despite down time. By embracing the latest systems and technologies, Takshi Auto is delivering safe and efficient Auto components which will last efficiently for generations to come.
Explore Now
Innovation
Austempered Ductile Iron Differential Case
TACPL has come up with its innovative solution to break the myth of industries by successfully machining and developing special metallurgical tool which was first of its kind in India.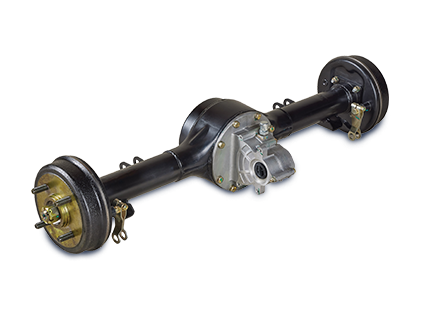 Innovation
E-Axle
Our approach towards the electrical axle is precision driven & strategic in nature owing to decades of experience & expertise in axle and axle housing. With 100% involvement in the project with the customer right from the design stage, we are able to achieve seamless integration & optimum efficiency driving the Electrical Vehicle Architecture right from the onset.
Innovation
Modular Banjo Beam
Basic banjo beam welded Assembly in center and friction welded tubes on either side constitutes modular Banjo beam. This design has adopted the best features of Salisbury design.
Products
Since inception in 2003, Takshi Auto Components Pvt. Ltd. (TACPL) has been a trailblazer in the field of automotive innovation. We pride ourselves on our holistic range of products right from E-Axles to Sheet Metal & Tubular Parts. Owing to decades of experience & expertise in axle and axle housing, our approach towards our custom designed E-Axle is strategic & precision driven. Our proprietary custom made E-Axles are aligned with the Make in India initiative.
E-Axle & Powertrain
Axle Housing
Independent Front Suspension
Suspension Systems
Axle Tube Assembly
Differential Case
Off Highway Axle
Rigid Front Axle
Sheet Metal & Tubular Parts
Manufacturing Capabilities
Axle variants for 0.5 ton to 200 ton vehicles
Capacity to manufacture 15 lakh+ components per annum currently
50,000+ components exported per annum
Tier 1 Supplier to all our customers
Our Clients
We at Takshi Auto Components Pvt. Ltd. have proven ourselves
to be the market leaders in manufacturing high quality automotive components & assemblies. Since our inception in 2003, We have had the privilege of working with industry leaders. Here are some of our esteemed clients in the automotive industry.